For some years a research group at the University of Pisa has been studying Lunigiana's population and landscapes through a project of reconnaissance, study, excavation and georeferencing of geological, historical and archaeological data. It is a non-exclusively academic research group, geared to gathering data through the help of the Territorial Information Systems (GIS), to offer training activities for university students and to create a dialogue between the different realities interested in the history and in the enhancement of the Lunigian territory.
Staff
     >Enrica Salvatori, Professor of History of Late Antiquity and Medieval Settlements (Master Degree in Archeology)
     >Monica Baldassarri, archaeologist
     >Massimo Dadà, archaeologist
     >Massimiliano Grava, historian
     >Francesca Lemmi, archaeologist
     >Paolo Mogorovich, Teacher of Territorial Information Systems (Master Degree in Humanities Informatics)
Areas of investigation
The extreme administrative fragmentation of the space definable as "Historic Lunigiana" ​​and the consequent need to collaborate with the various local authorities have made it indispensable to articulate the overall study on Lunigiana's historical landscape on some specific areas of investigation.
TraMonti, Val di Vara (SP)
Castiglioncello – Casola in Valle Aulella (MS)
Godano – castle and territory
Brina – castle and territory
S. Michele of Pegazzano – church and settlement context
Conferences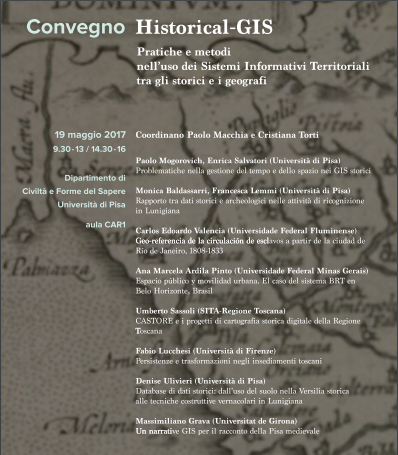 Practices and methods in the use of territorial information systems among historians and geographers
May 19, 2017, Department of "Civiltá e forme del Sapere"
University of Pisa
Presentations
Publications
Enrica Salvatori, Strutture ospedaliere in Lunigiana: dal censimento alla microanalisi, in Riviera di Levante tra Emilia e Toscana: un crocevia per l'ordine di San Giovanni, Atti del convegno (Genova-Chiavari-Rapallo: 9-12 settembre 1999), Genova, Istituto Internazionale di Studi Liguri, 2001, pp. 189-222.
Enrica Salvatori, Tra malandrini e caravanserragli: il problema dell'economia della Lunigiana medievale alla luce di recenti pubblicazioni, in "Bollettino Storico Pisano", LXX (2001), pp. 311-322
Enrica Salvatori, Fosdinovo nel quadro delle gerarchie delle strade e dei poteri della Lunigiana medievale, in Signori e Popolo di Fosdinovo nel basso Medioevo, atti del convegno di studi storici (Fosdinovo: 8 settembre 2002), in "Memorie della Accademia Lunigianese di Scienze 'Giovanni Capellini', LXXII (2002), pp. 39-56
Enrica Salvatori, Tra la corte e la strada: antichi studi e nuove prospettive di ricerca sui Malaspina (secc. XII-XIV),

in

Territori e spazi politici. Dalla Marca di Tuscia alla Toscana comunale,

a cura di Giuseppe Petralia e Mauro Ronzani, Pisa, ETS, consegnato ai curatori nel

2005

, ancora in corso di stampa, preprint disponibile in Reti Medievali – Open Archive ***

Enrica Salvatori, Imperatore e signori nella Lunigiana della prima metà del XIII secolo, in Pier delle Vigne in catene da Borgo San Donnino alla Lunigiana medievale Itinerario alla ricerca dell'identità storica, economica e culturale di un territorio, Sarzana, Grafiche Lunensi, 2006, pp. 167-184

Enrica Salvatori,

Poteri locali e popolamento in Lunigiana tra XII e XIII secolo, in Da Luni a Sarzana 1204–2004, Ottavo Centenario della Traslazione della Sede Vescovile Sarzana 30 Settembre – 2 Ottobre 2004, Roma, 2007, pp. 255-272.
M. Baldassarri, P. Mogorovich, E. Salvatori, Database, WebGIS, storia ed archeologia: riflessioni metodologiche dietro un progetto sulla Lunigiana medievale, in Geografie del Popolamento, (Grosseto, 24-26 Settembre 2008), Università degli Studi di Siena, Università di Siena a Grosseto, Dipartimento di Storia, Laboratorio di Geografia, pp. 205-217
Storia e territorio della Val di Vara, a cura di E. Salvatori, Pisa, Felici, 2012

M. Baldassarri, P. Mogorovich ed E. Salvatori,

Web-gis storico-archeologico della Val di Vara,

in

16a Conferenza Nazionale ASITA

(Federazione italiana delle Associazioni Scientifiche per le Informazioni Territoriali e Ambientali), 6 -9 Novembre

2012

, Centro Congressi – Fiera di Vicenza, ISBN 978-88-903132-7-1, pp. 1179-1186

M. Baldassarri, M. Grava ed E. Salvatori, Storia e archeologia di un ambiente montano: un progetto di ricerca sui paesaggi lunigianesi, in «Il capitale culturale», XII (2015), pp. 773-801 ISSN 2039-2362 (online) http://riviste.unimc.it/index.php/cap-cult
M. Baldassarri ed E. Salvatori, Research and education for an archeology of the landscape in Lunigiana, in Rural History 2015 International Conference of the European Rural History Organisation (EURHO) University of Girona, Spain, 7-10 September 2015 (Abstract in Atti di convegno)