Knowledge Triangle – New formulas for science communication
23 Maggio 2013

-

24 Maggio 2013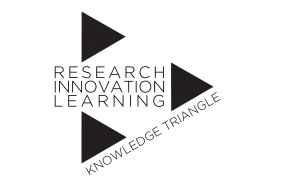 Research, innovation and learning are the three focal points – both independent of and interconnected with each other – of a knowledge-based society. Communication is in the center of this triangle.
Science communication, once shared by essays and books, is becoming more enriched and diversified. It is not only about the transformation of papers into digital format, but it concerns storing data in open access archives and video productions, publication of well organized materials on the web.
At the same time teaching has also changed: the lesson aims to leave the classrooms and to reach the large public and becomes intertwined with a variety of materials in the web. The lesson ex-cathedra can turn into an audio-video, lecture notes can turn into interactive e-books, and these kinds of materials can be distributed through reserved e-learning platforms or made available to all on platforms such as iTunesU.
One of the most obvious consequences of this process lies in a change in the role of distribution channels. While once publication was an outcome, today spreading knowledge has become an essential step in the learning process and a necessary corollary of the research work. Learning is no longer confined solely to school and university years, but it unfolds throughout the lifetime of the individual. Spreading and sharing knowledge can not be seen as a practice, made by different people from those who actually led the research, that oversimplifies the content, but it is bound to become a sort of moral obligation for the researcher him/herself: the obligation to truly make public the bouch of knowledge he/she has reached.
The meeting will diligently consider these issues and bring to the attention of the scientific community innovative ways to design an effective knowledge triangle.